Jen is a dynamic presenter known for taking complex topics and presenting them in an easy-to-digest and easy-to-implement manner. She has been told that she is, "one of the only science-y people I've ever actually WANTED to talk to."
Delivered in a causal style, she turns the neuroscience of human performance into actionable bites so participants walk away knowing exactly what they need to do.
Speaking and workshop topics include:
SCARF: Social Cognitive Neuroscience in the Workplace
Communicating CLEAR-ly: a behavioral communications model
Outcome-Based Project Planning
How to Foster Creativity and Problem-Solving
Better Communications through Neurology
Evernote for Productivity and Planning
Be a Healthy and Productive Road Warrior
Instant Stress Busters
At-Your-Desk Exercises
Why Ergonomics isn't a Total Solution
Banish Computer Eyes
Your Brain on Exercise
Better Breathing for Lower Stress
Going Beyond Diet and Exercise
The Right Foods for You
Break Through the Exercise Slump
Sleep Your Way to a Longer Life
View Sample Videos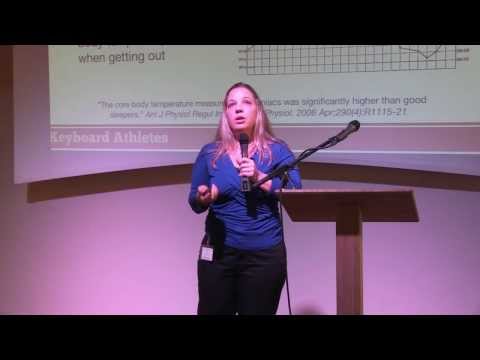 Sleep Your Way to Success (no, not like THAT).
Seattle SparkWeekend, February 2014
Computer Eyes: How our eye muscles work.
Seattle Times, March 2013
Exercise for Carpal Tunnel: Hand Figure 8s.
Seattle Times, March 2013
Eat the Right Food for You.
Seattle Times, March 2013
What People Are Saying
"Jen's presentation on sleep at the Seattle SparkWeekend event was one of our highest rated talks. The participants said that she provided 'great new information' that was "definitely what I needed" and that she gave a 'professional, skilled, and enthusiastic presentation'. " – LJ Lolley, SparkWeekend Seattle Director
"Jen is a charismatic and knowledgeable speaker. She was able to speak to an incredibly diverse audience and provide immediately useful tips and tricks that applied to everyone who attended her presentation." – Debbie Ward, Benefits Supervisor, The Seattle Times
"Jen has excellent energy, competence, and an engaging style that warms the room." – Lou McGovern, Essential Strength
"Jen was very helpful at making it easy and understandable."
"I love that you are so accessible and responsive. Talking in straightforward English really helps."
"Your smile and sense of humor are aces!"
Speaker's Bio
Jen Waak is the founder of Keyboard Athletes and a human performance coach whose passion is helping people reclaim lost time and energy to perform at the top of their game and do what they love.
A lifelong learner on a quest for the holy grails of efficiency and effectiveness, each week she reads, digests, and synthesizes hundreds of scientific articles and abstracts so that she can incorporate the most recent research into everything she teaches. From neurophysiology to nutrition and social intelligence to systems, the goal is to always get more great work done in less time – and feel good doing it.
Jen is a Results Certified Coach, Z-Health Master Practitioner, Precision Nutrition coach, ICF-certified coach, former PMP, and Six Sigma Green Belt with over two decades of experience as a coach, consultant, and mentor. The author of the Keyboard Athletes Guide to Pain Relief & Prevention, Jen lives, works, and trains in Seattle, WA.
Arrange for a Workshop